"Education is the passport to the future, for tomorrow belongs to those who prepare for it today." - Malcom X
Introduction:
With so many different types of admissions and requirements, it's important to know the differences between each one of them. Although every college is different and their admission requirements vary for an array of reasons, there are some basics you need to know before applying to any college and understanding their office of admission protocol. In this article, we are not going to discuss the college admissions process or what goes into a college application (i.e. extracurricular activities, recommendation letters, official high school transcript, test scores, etc.) but we will be discussing what the different types of college admissions and roughly what deadlines you need to be hitting.
Here's a quick overview of the four main types of college admissions and when you need to apply for each. Let's start with the most common form of admissions: regular decision.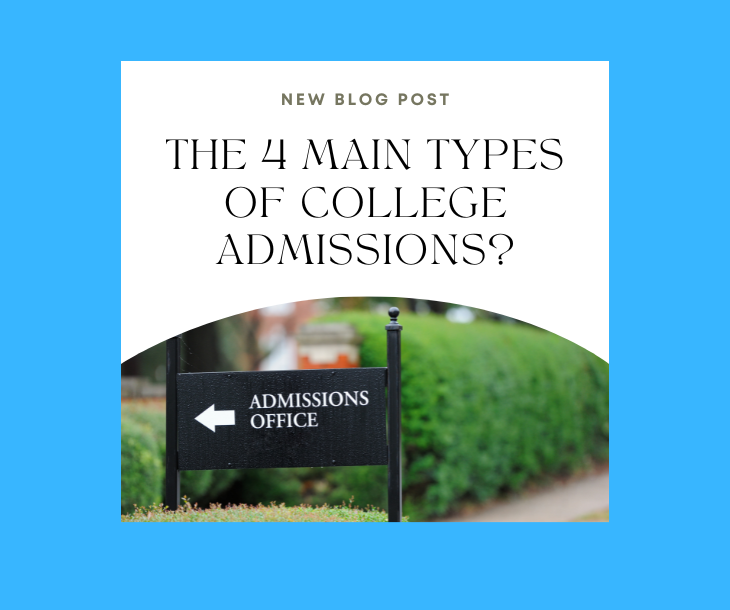 With that said, here are 4 main types of college admissions.
1. Regular Decision Admissions
Regular deadline:
Applying to college can be a daunting task, but regular admission provides flexibility and an equal playing field. Schools review applications all at once during the spring of your senior year, allowing them (and you!) plenty of time to make decisions before May 1st—the deadline for letting colleges know if they should expect you next fall. If your application is deferred in the early round or accepted in Round 2, that's okay! RD acceptances are non-binding so don't feel pressured into making a quick decision; take time weighing out every option available until you find one college that is a perfect fit for YOU!
Regular decision is the most popular type of application process for high school students and is the best way to cast the widest net. Applicants submit their applications by the regular decision deadline —usually in early January or February—and then wait to hear back from the college in April or May. The advantage to regular decision is that you don't need to commit right away; you have time to compare offers from different schools and make an informed decision on which acceptance to take.
RD is a good choice for aspiring students who want to give their college applications the best shot at an approval. With RD, applicants can take extra time in sharpening and submitting an amazing set of documents along with attaining desired test scores, letters of recommendation, and add in some extracurriculars that might have neglected freshman-junior year. RD is a very good option for students who might need a little extra time to polish their application.
2. Early Action Admissions
Early Action deadlines:
Early action (EA) admissions are similar to regular decision but with an earlier deadline for submitting your application. EA applicants also receive their admission decisions earlier than regular decision applicants, usually in December or January. However, early action isn't binding (meaning you don't have to commit if accepted), so you still have time to consider other schools before making your final choice.
If you have a top-choice university but don't want to be obligated to attend if accepted, exploring an Early Action (EA) application could be the right option for you. EA applications often offer competitive admissions decisions in December and give applicants until May 1st of the following year to make their decision - meaning it's possible even without binding agreements! Additionally, applying with EA allows students peace of mind knowing they can apply simultaneously at multiple universities during this time frame as long as one is not ED. That being said though, excelling grades and test scores are necessary components within your overall successful college application so get ready...and go for it!
Now that you know the basics about Early Action, we are about to make it a little more complex. There is something called Single-Choice early action or restrictive early action.
If you're a student looking to apply early to their top choice school but don't want the commitment of Early Action or Decision, then Single Choice Early Action (SCEA) is your solution. With SCEA, after receiving an acceptance decision from that one school – whether it be accepted, deferred or denied - you can still choose any other EA/ED deadline before May 1st for enrollment. Top-notch universities like Harvard and Yale have SCEA plans in place along with Princeton & Stanford which offer Restricted Early Actions respectively; giving more options than ever! So make sure this style of application fits your needs precisely because only applying once during ED may mean missing out on some great opportunities elsewhere until after hearing back from the original chosen college's response.
SCEA or REA are great alternatives to early decisions. It still gives you an advantage because a school knows they are your top choice but it's much less restrictive than early decision. It is not binding you to a particular college. Make sure to research if your top school offers these types of early action applications.
3. Early Decision Admissions
Early decision deadlines:
Early decision (ED) is a bit more complicated than EA because it is a binding contract, meaning if you are accepted via ED you must commit immediately and withdraw all other applications. That said, ED can be advantageous because it shows colleges that you are serious about attending their school and increases your chances of being accepted. It's important to note that not all schools offer ED; some only offer EA, while others offer both EA and ED options. Additionally, some colleges require students who apply ED to attend if accepted, while others allow students to decline an offer without penalty. Understanding the school's rules on early decision will save many headaches in the future.
When making the decision to commit to an Early Decision application, it is essential for students to consider their grades and test scores from junior year. That's because ED applications are usually due before first-semester senior year grades - so your academic performance as a Junior will be heavily scrutinized by college admissions officers when they evaluate you! High-achieving Juniors with solid grade trends may want to pursue ED but those who could still use some improvement in that area should instead opt for regular decisions once they have submitted more up-to-date information during their Senior year.
If you've hit the mark on your SAT and ACT scores, then Applying Early Decision might be a good idea. However, if there's still room for improvement or test-optional options are available at schools of interest - taking advantage by retesting could give your applications an extra boost! If that's the path chosen though, it may be best to wait and apply in later application rounds. This is why having a strategy early in your junior year is important if you are planning to apply ED to highly selective colleges. Understanding the ED admission process is imperative for success.
An Early Decision option might sound great but it is not without its drawbacks. One thing you must realize, this is a contract between you and the school of choice. You are making this decision before any financial aid package is offered. This means that if you are admitted under ED, you must take whatever financial aid package they offer you. Also, if admitted, you must withdraw any other application you have sent to other schools. Unless you are willing to pay cash for your first-choice college, ED might not be the smart way to go. You must understand the financial commitment, or often the financial burden you will be undertaking.
Professional Advice:
Many school guidance counselors push for this type of admission decision because it does give a student a slight advantage for admissions. Before you apply ED, please make sure you speak with a professional to make sure this is the right decision for your family. Because this is a binding contract, it might hurt prospective students more than it helps. ED is a great option for high school seniors who are looking for a highly competitive school and are willing to pay cash or take out loans for that particular school.
4. Rolling Admissions
Rolling Admissions deadline: Rolling basis
Rolling admission is an innovative alternative to traditional college applications. Rather than having a hard deadline, colleges with rolling admissions evaluate each application as it comes in until the incoming class has reached full capacity. In contrast to early decision and action options, this type of process isn't chosen by students but instead implemented directly by certain schools for their admission cycles.
Unlike regular/early action/early decision admissions, rolling admissions does not have a specific deadline for submitting applications; instead, colleges accept applications on an ongoing basis until their class size has been reached or their deadline has passed (whichever comes first). This offers applicants more flexibility since they can submit their application when they feel ready rather than having to meet a strict deadline like with regular/early action/early decision admissions. Rolling admission also means applicants will receive decisions faster than if they had applied through one of the other types of admission processes mentioned above; however, this also means that competition may be higher as well since there may be fewer spots available at any given time due to earlier acceptances.
RA is an ideal option for students who have already begun the college application process and are looking to get a few out of the way before deciding on their top school. It's also great for those who might be feeling behind in terms of timing, due to late starts or rejected applications early-on; they can still consider multiple colleges while considering where they ultimately want to apply ED/EA. In either case, if accepted at another institution prior, applicants will need withdraw any pending RA decisions - or decline admissions outright should that have occurred earlier as well!
One thing to note about rolling admissions: this is typically not an option for most competitive colleges. Most competitive colleges set deadlines to make sure they are able to select their student body. Rolling admissions is usually going to be a small, regional school that has many spots open for students who did not get into their first choice school.
In conclusion:
We hope this helps you make a good decision when applying for these applications. Let us know what you want us to cover next!