" You can dream, create, design and build the most wonderful place in the world…but it requires people to make the dream a reality."

Walt Disney
Introduction:
Let's first answer this very loaded question and then we will get into some specifics. In short, no you do not need to hire a consultant to help you through the college counseling process. There are hundreds of thousands of students every year that get into college without the help of a hired professional. If anyone tells you otherwise, RUN away. With that said though, hiring a college consultant is like hiring any other consultant. You are paying someone for their expertise and hopefully their track record that you don't have. They should theoretically know more about the process than you and provide a ton of value because of that knowledge set.
I'm going to state the obvious right now; navigating the college applications process can be a daunting task, especially when you're trying to determine which schools are right for you and how best to present yourself in your college applications. Not to mention, all of the deadlines, financial aid requirements, dealing with extracurricular activities, navigating whether your test scores are high enough, and many other considerations that come along the way. That's where college consultants come in. College consultants specialize in helping students through every step of the admissions process, from selecting different colleges they're interested in, crafting their personal statements, gathering letters of recommendation, and college essays that make them stand out as candidates. They provide an invaluable service by saving both time and money while also increasing acceptance rates to top universities. The reason they can help you so much is that they have a proven track record of helping students year after year get into the best college. They are there to make the complicated process streamless for high school students and save you time and headaches in the process.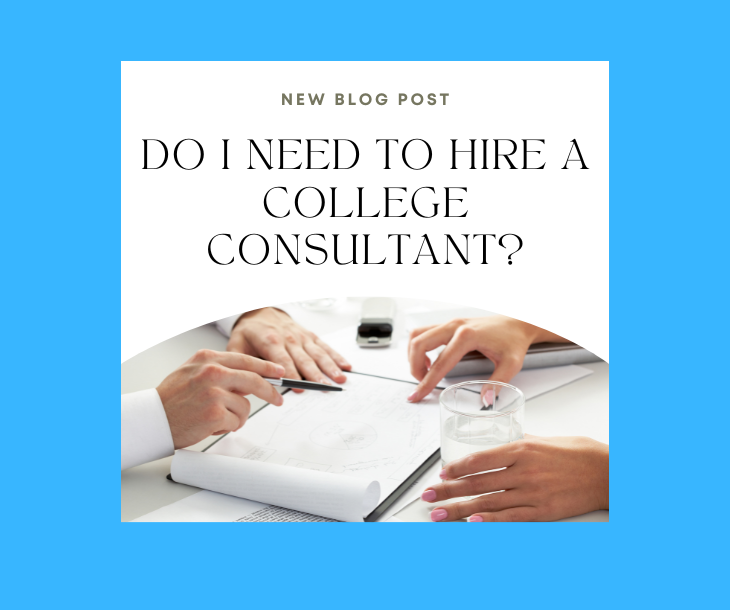 With that said, here are 4 considerations when hiring a college consultant! 👊
1. The Cost of Hiring a College Admissions Consultant
Hiring a college admissions consultant can be a great way to take the stress out of the college process. They can also be expensive depending on their range of services and years of experience. Most consultants charge per hour: the more you need their help, the more they will charge. There are 2 things that I would consider when figuring out your budget for a college consultant:
You get what you pay for. I would make sure to know who you are working with and not coupon college advice. Everyone wants to save a buck but this is important counsel you should really consider investing in. Whether it is for admissions or it's for scholarship help, this investment will yield a return if you find a good fit with the right professional.
Do as much as you can before meeting with them to discuss the price. This means making sure you have decent test scores, a college list, and have started your college resume. Most of these things can either be done independently, with high school counselors, or your school's guidance counselor.
2. Time Savings during the college admission process
Arguably the most important part of hiring a consultant is time savings. The whole college planning process is incredibly daunting and the entire process can take hundreds if not thousands of hours trying to figure out all the moving pieces. The time saved can be focused on your junior year classes and even into your senior year classes depending on when you start. Hiring a college admissions consultant can be a great way to make the college application process easier and more efficient.
A good admissions consultant will also help in the college search so you find the right school for you. There are almost 4000 colleges in the United States to choose from so having outside help to figure out a list of colleges that will be a good fit for you is the best way to attack this process. Various colleges have very specific requirements, especially the elite colleges, so having a professional help you understand these challenges will help you immensely.
3. Higher Acceptance Rate When Working with a College Admissions Consultant
Navigating the college application process can be a difficult and stressful task for many students. Fortunately, there is help available in the form of college admissions counselors. These professionals specialize in helping students through every step of the admissions process, from researching schools to filling out applications and crafting essays that will set them apart as candidates. Hiring a college consultant offers several benefits, including cost savings, time savings, and increased acceptance rates at top universities. In this article, we'll discuss some of the things you need to know so you can make an informed decision about whether or not hiring a college consultant is right for you.
Early decision, early action, and regular admissions all require a specific strategy. Someone with extensive experience can help you navigate these choices which will enevitably help your acceptance opportunities and get you into your dream schools. It's all apart of it. You will have someone's expertise to go through the admissions process without making a ton of mistakes along the way.
4. Choosing the Right College Admissions Consultant
Have realistic expectations- College consultants, unless they are doing something illegal (i.e. the huge celebrity college admissions scandal of 2019), there is never a guarantee of anything when it comes to college admissions. If someone says "if you pay me this much I will get your kid into Harvard" PLEASE avoid this person immediately. It's not how this works. You as a family might have a better advantage by working with someone who has a good track record of getting students into top schools but nothing is ever guaranteed. We want you to know this before entering into any agreement. High-profile schools (Ivy leagues, Stanford, Cal Tech, MIT, etc.) are going to be a reach school for any student. There are hundreds of valedictorians each year getting rejected by top colleges. When you have such a low admission rate (Stanford is 3% for example), most people are getting rejected. As long as your expectations are where they need to be, you will be fine when hiring a consultant.
This is NOT a magic pill- I am going to state a very unpopular opinion. I don't care who you go with, how much you pay them, or how well-revered they are, college consultants are working on opinions and very loose data. Every year is different for admission requirements, and applicant pools change annually- not to mention state legislation can play a huge part in the ever-changing admissions game. These are all things outside of any consultant's control. Again, they might have "data" based on their client results but unless they are admissions officers, they will never see the whole picture. We have worked with students for decades and we are constantly stumped on why colleges decide on one candidate over another. All we can do at that point is assume the reason why and hopefully avoid the issue in the future.
Avoid "consultants" who are trying to sell you financial products- There's a little-known secret in our industry. Insurance agents have infiltrated the college planning space because there is no governing board over the industry. There aren't certifications like there are in the legal and financial industries. It's an open industry that can often leave people vulnerable. A true college consultant is going to come from an educational standpoint, not a financial one, and be a true college advisor. They are going to ask you questions about GPA, test scores, extracurriculars, and community service involvement. When a consultant asks you questions about the equity in your home or tries to sell you an annuity- you will know who is who. There is nothing wrong with working with a financial advisor who is trying to help you with the financial aid piece but just understand they will not be helping you with admissions. We work with plenty of agents to help our clients when we get to the FAFSA and CSS.
Final Thoughts on Finding the Perfect College Admissions Consulting Service
The college admissions process can be a daunting and overwhelming experience for many students. With so many schools to choose from, researching each one in-depth and crafting the perfect application takes time- time you might not have. Fortunately, there is help available in the form of college consultants who specialize in helping students through every step of the way. From researching schools to filling out applications and crafting essays that will set them apart as candidates, they provide an invaluable service by saving both time and money while also increasing acceptance rates at top universities.